Every weekday in April, I am posting a unique toddler learning activity I do with my two sons. These are low cost and simple ways to do something different each day. You can view any of these posts by looking for the title "Cheap Learning:"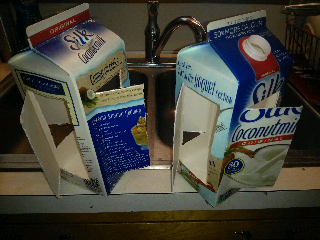 Save a milk carton or two. Mine happen to be coconut milk containers since my beautiful daughter stole my ability to handle dairy. But that is for another post...
Clean them out, and cut little "window flaps" in them with a knife. Bend them on the one edge you don't cut.
Give your toddlers some paint, and let them at it.
Tie some string to them, hang them on the porch, and talk about wind. Let them blow on them to watch them spin fast.
In the evening tonight, I caught my oldest son (3) staring through the window at his creation. He said, "Oh, see, Mom? The wind catcher is slowing down, so the wind is stopping. Do you see?"
Parenting win.